Print
Managed Retreat as a Response to Disaster
Hurricane Sandy came ashore on the New York/ New Jersey shoreline on October 29, 2012. This late-season storm was dubbed "Superstorm Sandy" because of its massive size and because it coincided with a spring high tide (full moon), which exacerbated the height of the storm surge. The massive storm surge inundated a large swath of the coastline, which includes New York City. Parts of the New York Subway system were flooded, widespread power outages crippled the city, and low-lying neighborhoods were destroyed across the region. The statistics for New York alone sum up the storm's magnitude:
43 deaths - 23 of whom perished on Staten Island.
$19 billion in damages
90,000 buildings in the inundation zone
Nearly 2 million people without power
The size of the area inundated is illustrated by the FEMA flood map image below.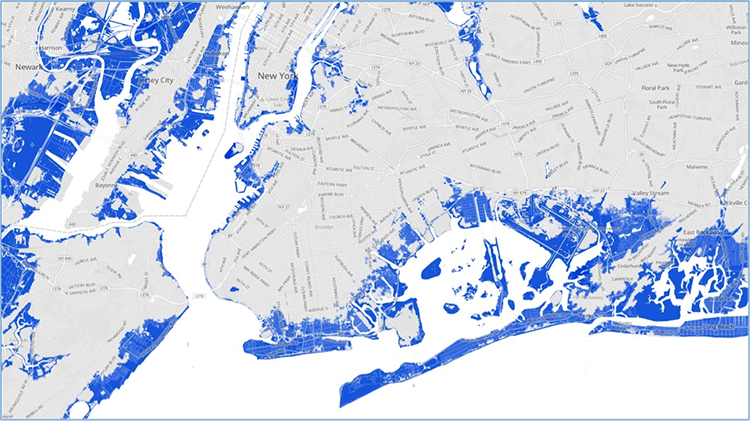 Credit:
FEMA via WNYC
John Keefe, Steven Melendez, and Louise Ma from the
WNYC Data News Team
. Help with the New York state zone shapefiles from Andrew Hill at Vizzuality. Flooding Survey based on Nov. 11, 2012, interim data from the FEMA Modeling Task Force Hurricane Sandy Impact Analysis, which combines detailed elevation data with U.S. Geological Survey inspections of high watermarks. Flood Zones Coastline inundation zones are calculated by the U.S. Army Corps of Engineers using worst-case storm, wave, and tide calculations, together with elevation data. View the New Jersey hurricane evacuation studies and the New York state evacuation studies. In New York City, the state zones are superseded by the city's own evacuation zones, which draw from the USACE surveys.
Sandy's massive impact on such a densely populated and economically important region of the United States precipitated an unprecedented response by area leaders. Both New York Governor Cuomo and former New York City Mayor Bloomberg have taken strides to encourage residents to consider the future of New York's coast in light of sea level rise predictions.
Former Mayor Bloomberg and the New York City Government were proactive in the development of the NYC: Special Initiative for Rebuilding and Resilience which produced a comprehensive report calling for a "stronger, more resilient New York". Recommendations found in the report include a multi-faceted approach, including flood protection systems (levees, floodwalls, floodgates, etc.), as well as the designation of certain areas to be set aside as green space. It takes into account the fact that 25% of the city is flood-prone and that sea level rise will only make matters worse.
New York Governor Cuomo, meanwhile, initiated a buyout program for homeowners whose homes were in areas likely to experience repeated flooding. This buyout program has been successful, particularly in Staten Island and in other New York neighborhoods especially hard hit by Sandy. Areas are being returned to green space rather than being rebuilt. Case studies are featured in this module.
A slightly different approach to managed retreat is sometimes necessary in the face of a natural disaster. So, rather than using the types of managed retreat projects described in the previous section, that are carefully planned and take place in discrete locations, moving homes and businesses to safer locations urgently comes to the forefront as we saw in Unit 2. In these cases, decisions are often made quickly and are driven by economic necessity.