Print
Welcome to GEOG 438W: Human Dimensions of Global Warming!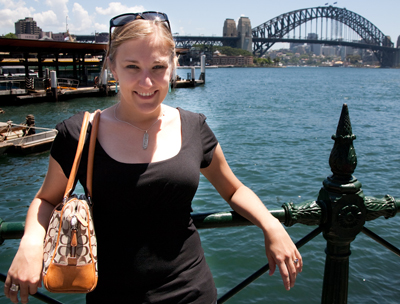 Credit: A. Robinson
Hi there! My name is Brandi Robinson, and I am the instructor for this course. I am a Lecturer in the Energy and Mineral Engineering Department in the College of Earth and Mineral Sciences and am very excited to be part of the Penn State Bachelor of Arts in Energy and Sustainability Policy Program. Prior to coming to Penn State, I worked for Environment Credit Corp. (ECC) here in State College, PA. ECC is a greenhouse gas offset project development company focusing on agricultural methane and landfill methane projects. ECC works mostly with farms, landfills, and composting facilities to capture and destroy methane emissions and monetize these reductions in the form of carbon credits. In addition to managing many of our agricultural offset projects, it was also my responsibility to understand how policy developments at the state, regional, and national scale affect our projects and, ultimately, the environment. ECC works to educate lawmakers on the environmental and economic benefits of implementing offset projects.
I'm homegrown - born and raised just up the road from University Park in Williamsport, PA. The only thing you may know Williamsport for is the Little League World Series. I completed my undergraduate degree in 2003, with a dual BA in Environmental Studies and Geography from the University of Pittsburgh at Johnstown. I then began the graduate program in Geography here at Penn State that fall and graduated in 2005. My primary research interests included local scale mitigation of greenhouse gas emissions and invoking behavioral changes for energy and resource conservation. My thesis work focused on reducing the greenhouse gas emissions of the University Park campus of PSU.
After graduating with my Masters, I worked briefly on a climate change grant at Penn State and then accepted a position with the University's Office of Physical Plant. There, I developed and maintained the greenhouse gas emission inventories for all of the Commonwealth campuses and worked with energy engineers to develop emission reduction strategies.
In the future, I hope to shift my research focus to understanding not only the climate implications of shale gas exploration and extraction, but also the social consequences. With the Marcellus Shale activity quite heavy around my hometown, I have a special interest in understanding both how increased utilization of natural gas can change our domestic energy portfolio, but, at the same time, I want to make sure we have a good handle on what sort of footprint this practice will leave on the landscape and people.
So, what do I do when I'm not working? Like you, I have a very busy life outside of work and have to find time to juggle it all in a way that makes sense. I'm testing this juggling ability even more since we welcomed a daughter, Claire, into our family in January 2012. So, I spend much of my time outside of work in a sandbox, reading stories, and watching Doc McStuffins - and I wouldn't trade it for anything. My husband, Anthony and I met when we started the Masters program in Geography here in 2003. He is now the Lead Faculty for the GIS Masters and Certificate programs here in the College of Earth and Mineral Sciences.