Print
Miami Beach and Rising Seas
One of the most vulnerable places for sea level rise in the US if not the world is Miami and more specifically Miami Beach, which lies on a fragile barrier island along the coast. Miami has a booming tourism and real estate industry, and Miami Beach and other beachside communities house some of the most luxurious developments in the country. According to Zillow, Miami contains 26 percent of homes at risk of rising seas. Sea level in the area is rising at a rapid rate, with six inches of rise expected by 2030 and up to six feet by 2100. This is threatening everything. Six feet of rise would leave much of Miami Beach (and the Greater Miami area) underwater. Even six inches could be more damaging during hurricanes with storms surge pushing further inland and causing more destruction, but six feet would be truly devastating during these events. Left unchecked, the city could lose its thriving economy and be faced with massive damages from the rising waters within a couple of decades.
The last decade in Miami Beach has seen a dramatic increase in "sunny day" flooding events, which generally occur at monthly high tides, and some more drastic "king tide" flooding during the highest tides of the year. All of these events have led to flooded streets and parking lots. Rising seas also threaten Miami's drinking water as salt water is beginning to seep into the city's aquifer, threatening its water supply (the salt water incursion issue discussed in Module 8). Sea level rise also has the potential to destroy many of the city's septic systems.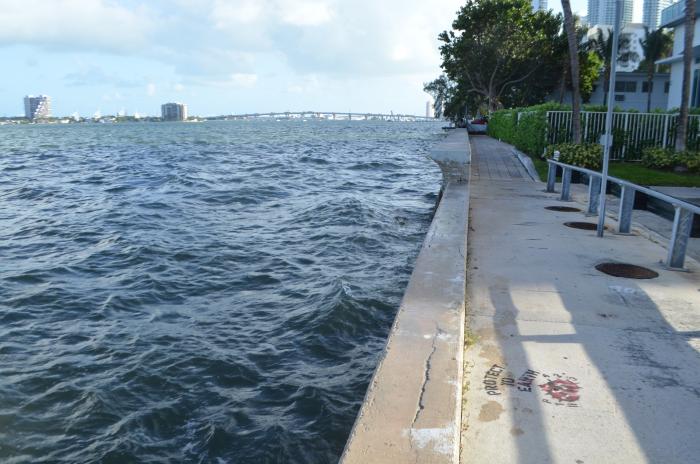 Faced with these threats, the city managers have taken on extremely proactive measures to stave off the rising seas and give the city a future. The city has raised taxes and employed some of the top coastal engineers to design systems to hold back the rising ocean. These systems include elevating the roads and building walls to protect key structures. Powerful pumps are being installed to drain water away during the king and sunny day high tides. Valves are being placed in drinking water systems to keep salt water out of the drinking water supply.
All of these measures are designed to ensure that the city stays vibrant well into the future even when the rate of sea level rise increases.
Video: Is Miami Beach Doomed? (6:28)