Print
Hurricane Ian: Sept-Oct 2022
Now to Hurricane Ian that hit southwest Florida in September 2022. The storm was notable because of how rapidly it intensified, with wind speeds increasing from 75 mph to 155 mph in just two days. The very large storm came ashore at Cayo Costa island just to the north of Fort Myers on September 28th, 2022. Sustained wind speeds at landfall were 150 mph, likely with higher gusts. It was the fifth-strongest storm ever to hit the 50 contiguous states.
But the damage in southwest Florida was not just inflicted by the wind. Since the path of the storm closely paralleled the coast as it approached land, and because the highest surge is in the right front quadrant of the storm due to its counter-clockwise circulation, the storm surge over large areas was devastating.
The storm surge was between up to 15 feet above normal sea level along the barrier islands of Captiva, Sanibel, and Fort Myers Beach. This wall of water caused massive devastation in these areas, as observed in the photographs below.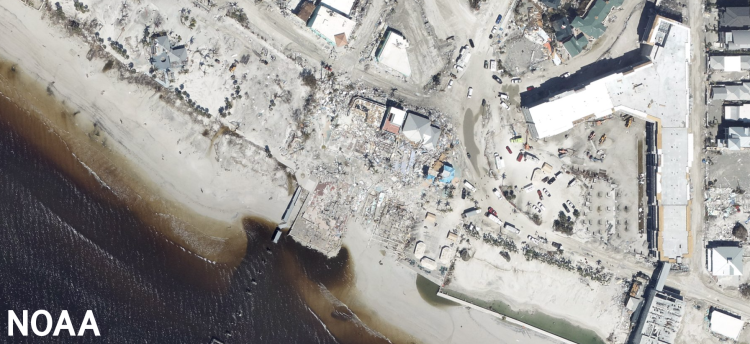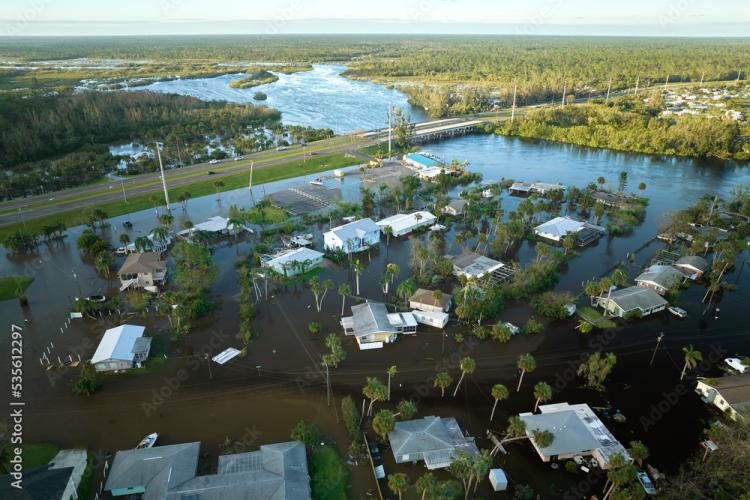 Ian moved slowly in the northeast direction across the Florida peninsula, and this slow path caused heavy rainfall over a wide area (see photo above), with precipitation totals of up to 17 inches over a 12-24 hour period. This rainfall caused widespread flooding well inland in places such as Orlando.
One of the main stories of the storm was a prediction. The different forecast models agreed closely as the storm approached southwest Florida, but because the path was so close to parallel to the coast, a small change led to a major difference in the landfall location. Two days out the path was more northerly with the eye forecasted to make landfall near Tampa, but then a day out a minor jog in the forecast to the east shifted the forecasted landfall of the eye well south. This change led to some delays in evacuation in the Fort Myers area.
The storm caused massive damage over a widespread area with catastrophic damage to housing along the coast, especially in Fort Myers, Sanibel Captiva, and Port Charlotte. More than 2.7 million people lost power at the height of the storm, and a large number were without clean water. Overall, the storm led to 136 fatalities in Florida and a total of $50 billion in damage.