Print
This week, we've been looking at some of the ways climate change impacts people in very up close and personal ways:  our health, our food supply, and our water supply. We learned that climate change is having significant impacts on human health today; it will have even more dramatic impacts on health in the future. Those impacts either are direct, such as heatstroke, or indirect, such as disease transmission through mosquito vectors. One of the key takeaways, as we think about the effects on our health, is that they are varied, pervasive, and expected to become more severe as climate change impacts become even more acute.
We've also looked at impacts on water and food.  It doesn't get more integral to our survival than this (remember - not [just] about polar bears).
The story of food security and climate change is one of geography and compounding vulnerabilities.  The shifts in where we can grow certain types of food is inherently a geographic problem to understand and carries economic, environmental, and social consequences of great import.  Water poses more risks for competition-related issues.  Both exacerbate vulnerable populations that may be experiencing insecurity for these basic necessities even before the impacts of climate change really take hold.
"When the well is dry, we know the worth of water." (Benjamin Franklin, Poor Richard's Almanac, 1746.)  Many of you seemed to come to a similar sentiment in your Write to Learn assignments that asked you to talk about what aspects of climate change impacts on human health you were most concerned about or how you personally felt most vulnerable to climate change, and as I told some of you, nothing else really matters if we don't have water. (Ben Franklin and I are clearly on the same page, except about kites and thunderstorms.)
Climate change is profoundly changing Earth's hydrology, giving us too much water in some places, but too little water in others; giving us too much water at one time, but not enough water over time, and giving us rain, but not snow. (Instead of the line from The Rime of the Ancient Mariner water, water, everywhere but not a drop to drink (a sailor surrounding by salty seawater he cannot drink) it's more like water, water - not there, not like that, not then!!!) Perhaps the greatest challenge posed by climate change is deciding how to adjust our water resource use to address the new normals of hydrology.
Decision-making takes place at all scales of human endeavor, from individual and household levels to community, state, national, and international levels. People regularly make decisions about water use at all these scales, including decisions that have time horizons of decades to centuries. Humanity, therefore, appears to be equipped to handle the water resource challenge presented by climate change. Although competing economic, political, cultural, and social interests will undoubtedly make this task more difficult than it needs to be, humans are infinitely resourceful and will figure out how to meet this challenge and, in many cases, turn it to their advantage.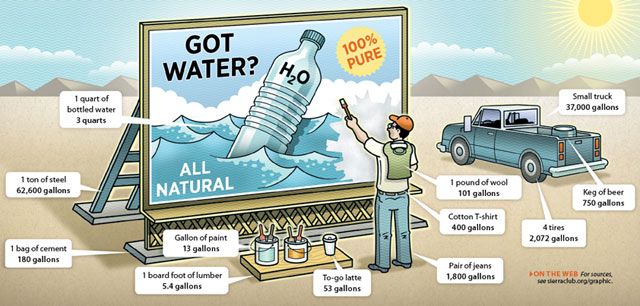 Reminder - Complete all of the Lesson 6 tasks!
You have reached the end of the lesson! Double-check the Lesson Assignments list on the overview page to make sure you have completed all of the tasks listed there.