Print
The next image shows CO2 emissions from fossil fuel combustion by country. In 2015, China's share was 28 percent of the world's CO2, while the US share was 15 percent. The next closest country, India, emitted about 6 percent of the CO2. Clearly, to bring down global emissions from the energy sector, China and the US must lead the way.
The next image is a graph depicting fossil fuel-based CO2 emissions for the US, China, several other key emitters and the aggregate rest of the world between 1970-2017. What jumps out at you?
China's emissions rose sharply after the turn of the century, while the U.S. emissions started to flatten out and drop at the end of that same period. These trends have continued. It is important to note that estimates (Liu et al., 2013, Block, n.d.) attribute one third of China's emissions to their exports, and 20 percent of those exports come to the U.S. Thus, this fact implies that U.S. CO2 emissions should be higher and China's emissions lower. In any case, both nations dominate global carbon dioxide emissions.
Credit: Muntean, M., Guizzardi, D., Schaaf, E., Crippa, M., Solazzo, E., Olivier, J.G.J., Vignati, E. Fossil CO2 Emissions of All World Countries - 2018 Report, EUR 29433 EN, Publications Office of the European Union, Luxembourg, November 2018.
The next image displays the GHG emissions from the various systems used to generate electricity. Clearly, coal and its close cousin lignite produce the most GHG per unit of energy produced. Fuel oil is the next most GHG-intensive generation system. Natural gas, which is often touted as the clean alternative to coal, certainly emits about half as many GHGs per unit of energy, but is still extremely GHG-intensive compared to non-fossil fuel alternatives. Renewables and nuclear produce trivial quantities of GHGs compared to the three fossil fuel types –– coal, oil, and natural gas.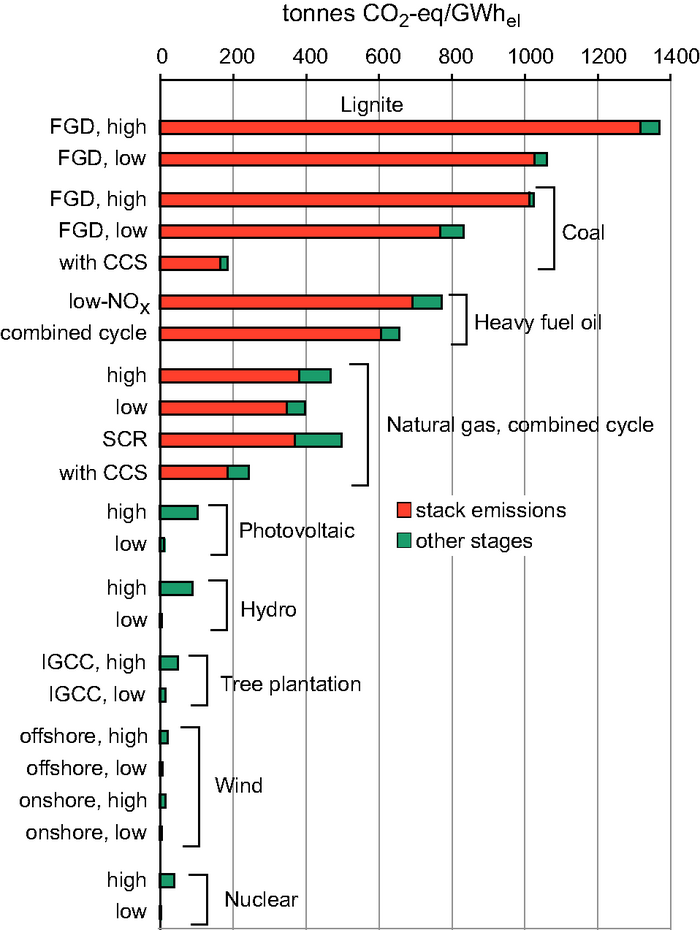 The final graphic in this section illustrates the fact that CO2 emissions go down as efficiency in burning fossil fuel in power generation goes up. For coal, new technologies improve efficiencies and reduce emissions –– but they are still exceptionally high compared to the alternatives. New natural gas power generation is about half as CO2-intensive as the best single-purpose coal-fired power plant. Cogeneration (also known CHP, combined heat and power) is dual-purpose and drastically improves the efficiency of any fossil fuel power generating system, halving the efficiency of single-purpose systems.
Credit: Sims, et al., 2007. Energy supply. In: Climate Change 2007: Mitigation. Contribution of Working Group III to the Fourth Assessment Report of the Intergovernmental Panel on Climate Change [B. Metz, et al. (eds)], Cambridge University Press, Cambridge, United Kingdom and New York, NY, USA. Chapter 4.3.6. The link to the image from IPCC retrieved on July 11, 2011 is no longer active.